Hi buddies, long time no write.
Have you thought you got rid of Janez Janša?
Sorry, to disappoint you… here I am, still, alive and kicking!
I wasn't posting much on the English session of the blog in the last couple of months. I beg you pardon for this, but I was rather busy with the distribution of the movie all throughout Slovenia and following the actual political situation and the ongoing series of protests in various towns in this country, demanding the resignation of political elites, including Janša (the politician) and several members of his cabinet.
Recently Janša's second government was ousted in a vote of non-confidence.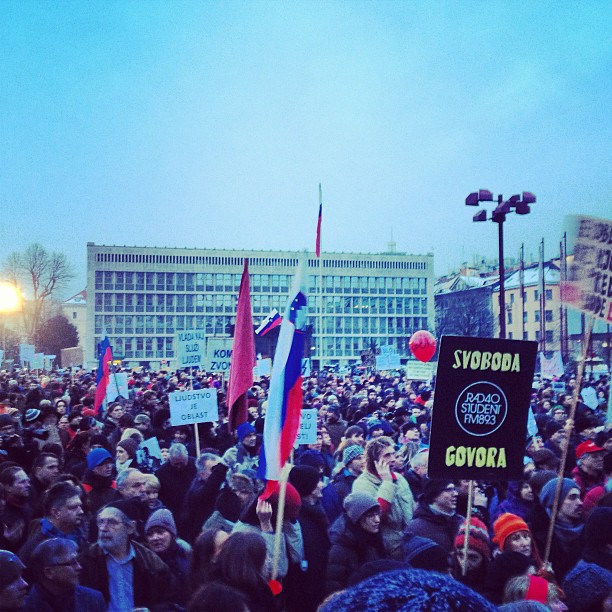 How did this happen?
Wikipedia:
In January 2013, the 2012–2013 Investigation Report on the parliamentary parties' leaders by Commission for the Prevention of Corruption of the Republic of Slovenia revealed that Janez Janša and Zoran Janković systematically and repeatedly violated the law by failing to properly report their assets. It revealed his purchase of one of the real-estate was indirectly co-funded by a construction firm, a major government contractor. It showed that his use of funds in the amount of at least 200.000 EUR, coming from unknown origin, exceeded both his income and savings.
Immediately after the release of the report, Civic List issued an ultimatum to Janša's party to find another party member to serve as a new PM. Since Janša was ignoring the report and his party didn't offer any replacement for him, all three coalition parties and their leaders left the government within weeks and were subjected to ad hominem attacks by Janez Janša who accused the SLS's leader Radovan Žerjav of being "the worst (economics) minister in history of Slovenia", while the leader of the Civic List Gregor Virant has been mocked by Janša as engaging in "virantovanje" (a word game on kurentovanje, a Slovenian carnival festival). On 27 February 2013, Janša's government fell, following a vote of no confidence over allegations of corruption and an unpopular austerity programme in the midst of the country's recession. Positive Slovenia's Alenka Bratušek was elected as the Prime Minister-designate to form a new government. Foreign media noted that it will be difficult for Bratušek to form a new government and questioned whether she would continue with the reforms initiated by Janša's government. Janša's government has replaced experts in various state agencies, such as the Slovenian Traffic Safety Agency, that were previously staffed by a renowned professor Ivan Prebil, an expert in car collision research, Vesna Kerstin Petrič, herself an expert in car crash injuries research, and Tomaž Tollazzi, an expert in roundabout civil engineering, by members of SDS without any expertise in the field, such as Mirko Brnič Jager from a local SDS branch in Ljubljana, Borut Kurmanšek from a local SDS branch in Domžale, Damjan Meško from a local SDS branch in Žalec, and Robert Sever from a local SDS branch in Pivka.
Click, Janez
Share tweet