The catalogue of the exhibition Signature by Janez Janša, Janez Janša and Janez Janša, held in Ravne na Koroškem at the Central Carinthian Library in 2010, features the essays by Petja Grafenauer and Miško Šuvaković.
The paintings displayed in the exhibition were painted by Viktor Bernik but signed by the three Janšas in different combinations. Grafenauer focuses on the signature being a key element, or the key element for assigning the market and cultural value to a work of art since the Renaissance. Hence, the Signature painting project raises the question of authorship with all its complexity, as it is still perceived as a highly individual matter in fine arts and is considered the expression of the work of the artist genius himself.
The theorist Miško Šuvaković situates the exhibition Signature within the broader project Janez Janša, in which Janez Janša, Janez Janša and Janez Janša carry on the practice of "exploring, testing and reorganizing the structure of human naming." He then points out that what has been conceived is a contradictory installation of paintings: a monotonous repetition of signatures with different underlying potentialities of identification and authorization of the identity of the artist-creator, a ready-made delirium.
Podpis / Signature

Edited by: Janez Janša, Janez Janša, Janez Janša
Contributors: Petja Grafenauer, Miško Šuvaković

144 pp. Slovenian & English, 16,4 x 23,6 cm
Printed by: Stane Peklaj, s. p.
ISBN 978-961-92192-1-8

Published in the occasion of the exhibition Signature at the Central Carinthian Library, Ravne na Koroškem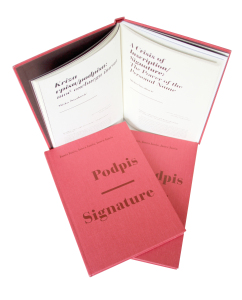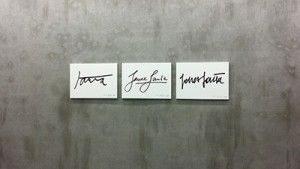 series of paintings, 2010