DIRECTOR: Janez Janša
STORY: Janez Janša, Janez Janša, Janez Janša
SCREENPLAY: Janez Janša, Janez Janša
PRODUCER: Marcela Okretič
WITH: Dražen Dragojević in the role of Dražen Dragojević
INTERVIEWERS: Dražen Dragojević, Janez Janša, Janez Janša
DIRECTOR OF PHOTOGRAPHY: Darko Herič, Matjaž Mrak
EDITORS: Jurij Moškon, Giusi Santoro
GRAPHIC DESIGNER: Luka Umek
COMPOSERS: Riccardo Nanni, Giancarlo Di Maria
SET DESIGNER: Janez Janša
COSTUME DESIGNER: Nina Jagodic
PRODUCTION AND DISTRIBUTION: Aksioma – Institute for Contemporary Art, Ljubljana
CO-PRODUCTION: RTV Slovenia, Institute Maska
ASSOCIATED PRODUCER: POPCult (IT), Emotionfilm, ARTREBEL9 / Teleking
FINANCIAL SUPPORT: Slovenian Film Center
TECHNICAL SUPPORT: Viba Film, Ljubljana
MEDIA SPONSORS: Neural, Radio Študent, Mladina
My Name Is Janez Janša: the first movie in Slovenia enabled through crowdfunding.
3
@drfilomena
Aldo Milohnić
Aleksandra Rekar
Alenka Gregorič & Ajdin Bašić
Alenka Veler
aleskk
Aleš Črnič
Aleš Selan
Amelia Kraigher
Ana Ivanek
Andraž
Andraž Seifert
Andrej E. Skubic
Andrej Strehovec
Anika Kronberger & Daniel Fabry
aponeurotica
Aprilcat Janez Janša
Arthur Kleinjan
Arthur Cravan Foundation
Barbara
Barbara Predan
Bazzinkki
BI-KO-FE
Boris Horvat
Boris Petkovič
Borut Jerman
Boyan Manchev
Bruce Anderson
Centrifuzija
Claudio Bruno
Cludo
dadaX
Danja Vasiliev
Danomatika
DAV
Davide Carafòli & Elena Casciati
Dejan & Dragana Alfirević Srhoj
Diego Volpi
Domenico Quaranta
City of Women – Association for the promotion of women in culture
Dubravka
Dunja Cvek
edap
Emil & Mary Okretič
erlambert
Eva & Blaž Križnik
Eva Nina Lampič
evgenz
Familia Becker Okretic
Familia Napatista
Familia Prieto Okretic
Florian Malzacher
Ginger Up
Grayson Cooke
Gustavo Libedinsky
Hanka Kastelicová
Hinko Lukšić
Igor Vidmar
Ilina Koralova
Ingjana Bergbanaman
Irena Pivka & Brane Zorman
Irena Tomažin
Isaac Fernández Rodríguez
Ivan Gergolet
Ivana Mandarič
Iztok Ilc
J Lategano
James Joyce
Janez Janša
Janez Janša
Janez Janša
Janez Janša
Janez Janša
Janez Janša
Janez Janša
Janez Janša
Janez Janša
joekelleher
Julija Potrč
Jure Kirbiš
Jure Novak
Karl Stocker
Karolina Koglot
Katarina Jenko
Katja Kobolt
Katja Osljak
Katra Kodela
Kerry Gaertner
Kerstin Schroth
KITCH
Kolektiv Narobov
Konstantina Georgelou
Kontejner
Kpiti
Kristin
krneky
krofdrakula
Leena Pasanen
LINI
Lublana.si
Luca Ramelli
Luka F.
Maja Bavdaž Gross
Maja Djordjević
Maja Smrekar
Mare Bulc
Marko Sedlaček
Matija Milkovič Biloslav
Matino667
Matjaž Manček
Matjaž Zaplotnik
Matteo Cremonesi & Claudia Delalio
mazee
mcyehzn
Mecha Sauret
Michel Quéré
Mina Fina
Mladen Dolar
Mojca
MoJcA OcvirK
Mojca Zupanič
Muz Gough Whitlam Kangaroo
Natalie Gravenor
Nataša Kramberger
Nina Meško
Nina Slejko Blom & Conny Blom
Núria Faraig
P&A TORKAR
Paolo Cirio
Paolo Rigamonti
Paolo Ruffino
Peter M Boenisch
Petra Petan
petrafedr
PinTinJan
Polona Glavan
POPCult
Primož Ekart
Primož Fijavž
Quentin & Raquel
Rajko Bizjak
Regine Mechthild Rapp & Christian Lucien de Lutz
Robert Waltl – Mini Teater
Roberto Naccari
Rok Vevar
Rusjanovi
Sabina Frljak
Sašo Sedlaček
Sašo Štih
sdzorko
Seppo Gründler
Share Festival
skotin
SNAUT
snowhell
Stefano Tealdi
Studio in galerija Černe
Suzana K.
svaasta
Taja
Talia Leibovitz
Tanasko Tasić
tau12
Tevž & Mojca
Tina Dobnik
Tina Janc
Tina Žen
Tomislav Medak
Topsy
TT Gemin
Ulla Makinen
umacek
Urša Chitrakar
Urška Comino
V&A
VERKAMI
Witchy Moose
Yajaira Zambrano
yisheng
Zala Dobovšek
Zdenka Badovinac
Žiga Kariž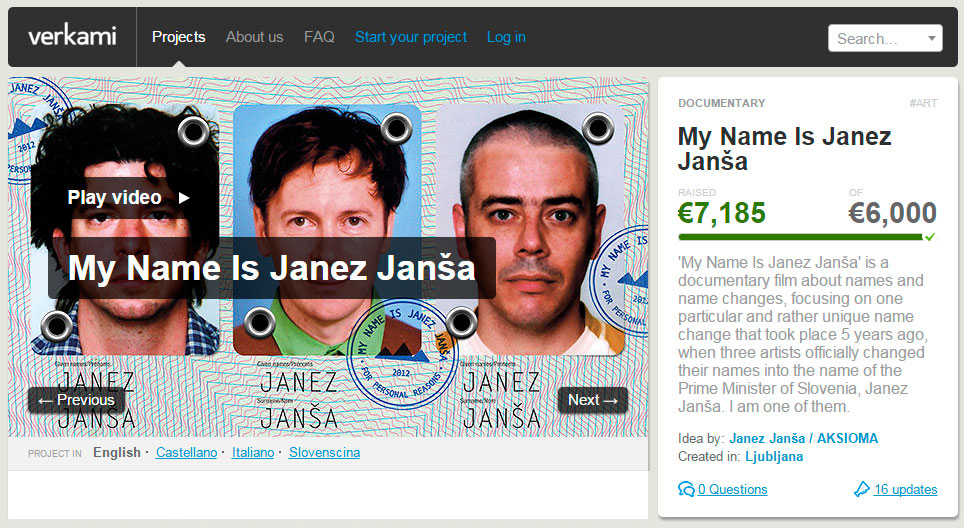 ABOUT THE DIRECTOR
Janez Janša is a conceptual artist, performer and producer. He is co-founder and director of Aksioma – Institute for Contemporary Art, Ljubljana.
ABOUT THE PRODUCER
Aksioma – Institute for Contemporary Art, Ljubljana, is a non-profit cultural institution based in Ljubljana, Slovenia. The basic activities of Aksioma are the production, promotion and distribution of new media art projects. However, its program also encompasses the fields of performance and visual arts, music, documentary and video production as well as education and publishing. More: www.aksioma.org