The More of Us There Are, the Faster We Will Reach Our Goal
The More of Us There Are, the Faster We Will Reach Our Goal is a documentary performance that joins various opinions and views (from interviewees in the street to politicians, theoreticians and experts in the fields of contemporary art, law and many other social spheres) related to the questions of identity and identification, multitude and multiplication, name as an interface between the private and the public and personal name as brand. It is a walk through various stages and aspects of changing one's name and its consequences (public as relational and the intimate), a study of how, in the Western world, the concept of a personal name coincides with the question of a person's identity (or differs from it).
If we paraphrase Shakespeare's Juliet:
Would a rose by the name of Janez Janša smell as sweet?
Authors: Janez Janša, Janez Janša in Janez Janša
Scripwriters and directors: Janez Janša, Janez Janša
Perfromer and documentarian: Dražen Dragojević
Editing: Luka Dekleva, Urban Potočnik, Janez Janša
Programming: Luka Dekleva
Sound designer: Sašo Kalan
Dramaturgy: Tina Dobnik
Camermans: Darko Herič, Matjaž Mrak, Boris Bezić, Janez, Janša, Janez Janša
Translation: Maja Lovrenov in Jeremi Slak

Executive producer: Tina Dobnik

Co-Production:

Supported by

Thanks: Bojan Arh, Zdenka Badovinac, Marko Battista, Marko Batista, Simona Benedetti, dr. Miro Cerar, France Cukjati, Mladen Dolar,Thomas Frank, Dante Grassi, Sergio Grassi, Sofia Grassi, Branko Grošelj,Silvana Guliani Grassi, Asja Hrvatin, Ema Hrvatin, Varja Hrvatin, Vito Hrvatin, Eva Irgl Ana Ivanek, Janez Janša, Jedrt Jež Furlan, Zmago Jelinčič Plemeniti, Sebastijan Jeretič, Ven Jemeršič, Alenka Jeraj, Andrej Kariž, Nuša Kariž, Žiga Kariž, Franci Kek, Jela Krečič, Jože Kuhar, Jože Kuhar, Jože Kuhar, Blaž Lukan, Gerald Mayer, Aldo Milohnič, Marcela Okretič, Miro Petek, Miran Potrč, Franc Pukšič, Vlado Repnik, Martina Ruhsam, Nicole Schuchard, Sonja Sivec, Damir Smrtič Veso Stojanov, Ilinka Todorovski, Pavel Toplak, Karmen Uglešič, Rok Vevar, Andrej Vizjak, Jasmina Založnik, Pia Wenzel.
PREMIERE
Brut Künstlerhaus, Vienna (A)
April 13-14 April, 2010
SLOVENE PREMIERE
the 21st International Film Festival LIFFE
Cankarjev dom, Ljubljana (SI)
November 11, 2010
Reruns:
Inkonst, Malmö (SE)
September 7, 2010
PREGLEJ NA GLAS Festival
Stara mestna elektrarna, Ljubljana (SI)
May 10-12, 2011
ZOOM Festival
HDK – Hrvatski dom kulture, Rijeka (HR)
September 2, 2011 at 8 pm
the 46th Maribor Theatre Festival (Borštnikovo srečanje)
Kino Udarnik, Maribor (SI)
October 20, 2011
Stara mestna elektrarna, Ljubljana (SI)
April 11, 2012
International Theatre Festival Divadelna Nitra
Andrej Bagar Theatre
and Karol Spišák Old Theatre, Nitra (SK)
September 25, 2012
eXplore Dance Festival
WASP, Bucharest (RO)
October 13, 2012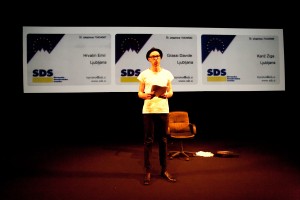 The More of Us There Are,
the Faster We Will Reach Our Goal, 2010
Photo: Nada Žgank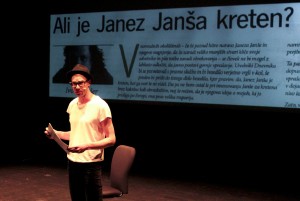 The More of Us There Are,
the Faster We Will Reach Our Goal, 2010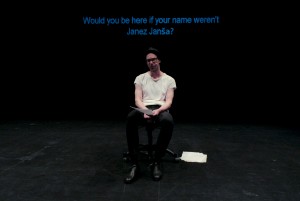 The More of Us There Are,
the Faster We Will Reach Our Goal, 2010

Vojtěch Varyš
Tyden.cz, 26 .9. 2012

Dominika Široká
Festivalový denník, 26. 9. 2012